Florida Atlantic University was founded in 1961, in Boca Raton on an 850-acre site located near the Atlantic Ocean. The campus is conveniently located halfway between Palm Beach and Fort Lauderdale and offers a broad range of academic programs, activities, and services. It is a world class university with 30,000 students from all 50 states and around the world. There are 180 different areas of undergraduate and graduate study and over 400 student organizations and clubs.
Your educational journey extends far beyond the classroom at FAU. Our six campuses showcase 110 coastal miles of diverse South Florida at its best: sparkling beaches to sophisticated downtown energy…small-town charms to relaxed island vibe. On campus you'll find sports programs galore. Robust student life. International arts, culture and entertainment. All in a warm, sunny climate that makes outdoor living a year-round pleasure.

Looking for the ultimate college experience? FAU has it. Every sport you could want; on-campus clubs and student organizations, and an active Greek life. The Boca Raton campus boasts a Digital movie theater, two cafeterias, two galleries, a five-story library, a 29,419-seat stadium and massive recreation complex. There is even 2,500-seat performing arts center hosting rock bands to the Florida Philharmonic.  At your finger tips is the city of Boca Raton which boasts a population of over 96,000 with an annual average of 234 days of sunshine, an average temperature of 77 degrees, 100's of restaurants, shopping malls, and a beautiful beach just 2 miles from campus!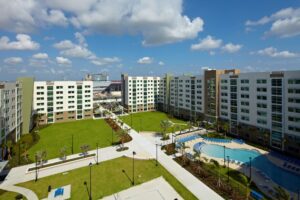 To learn more about the university and all it has to offer, please click on the link below: